NEW MEXICO
Whoooop, there is it!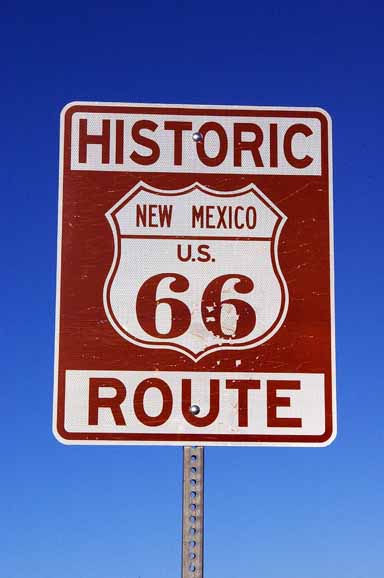 At a cute city park along the Rio Grande in Albuquerque, New Mexico
The cute, artsy-fartsy town of Madrid, New Mexico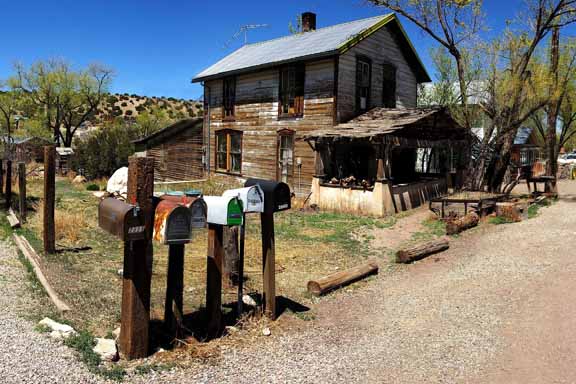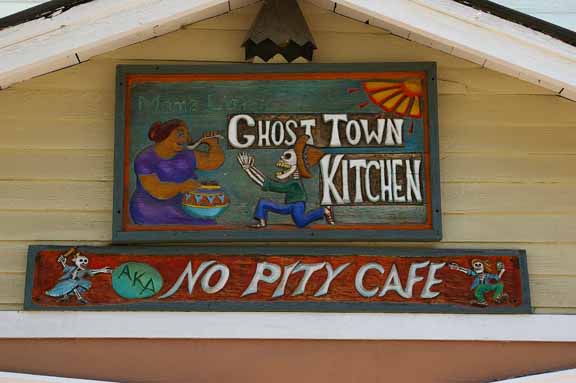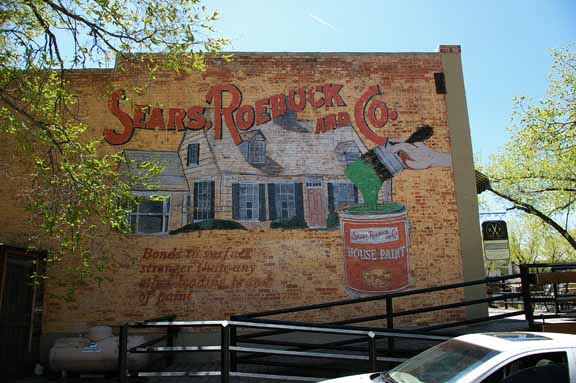 Navajo rugs for over $2,000? Give me a break!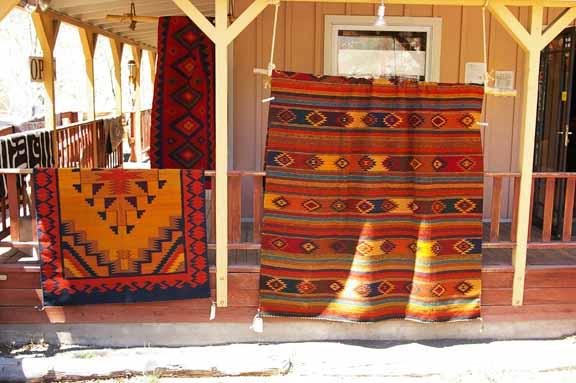 A $40,000 painted horse! Really.
A huge tree in Los Cerrillos, New Mexico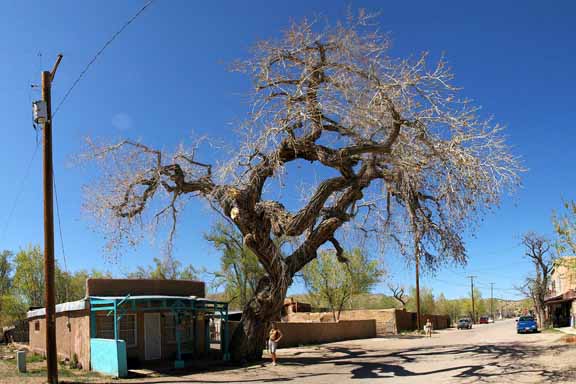 Samples of rock art at the Petroglyph National Monument, New Mexico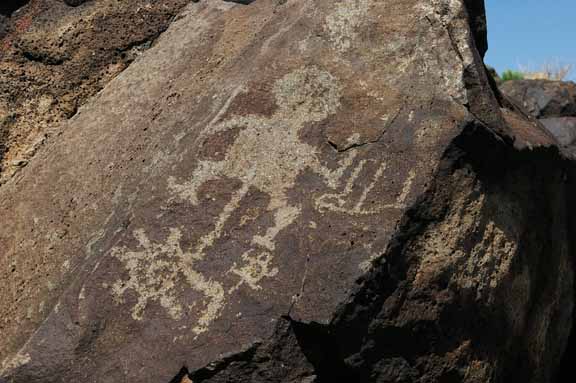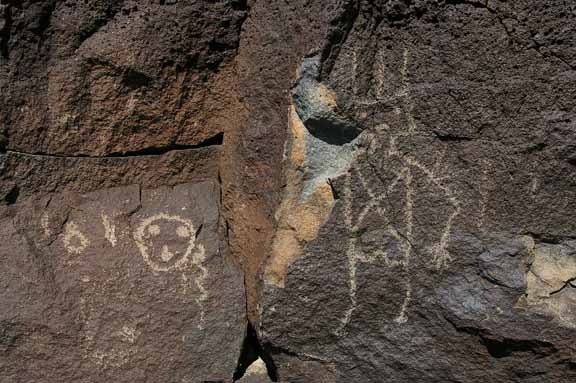 Climbing the volcanic rock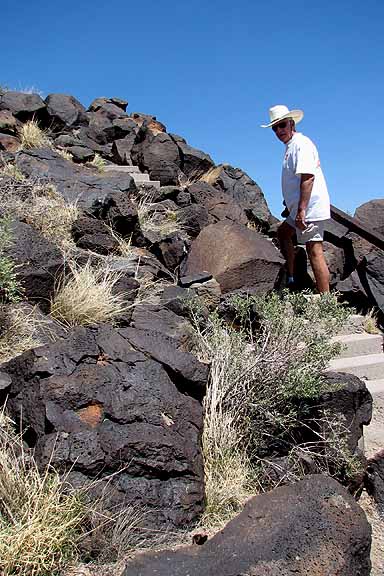 Graffitti over 150 years old at El Morro National Monument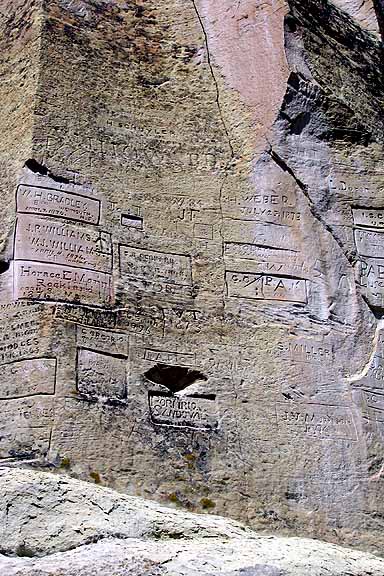 UTAH
The tipping of the Mexican Hat.....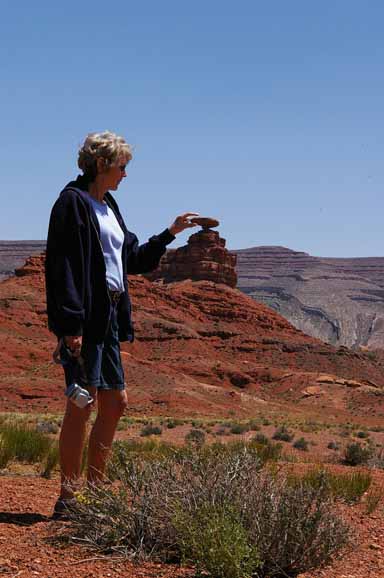 Stickers put on a road sign by people, students, et cetera that just drove up one of the scariest roads you will ever drive on. The 'Moki Dugway" in Utah climbs 1,000 feet elevation on a narrow single lane dirt road on the side of a mesa.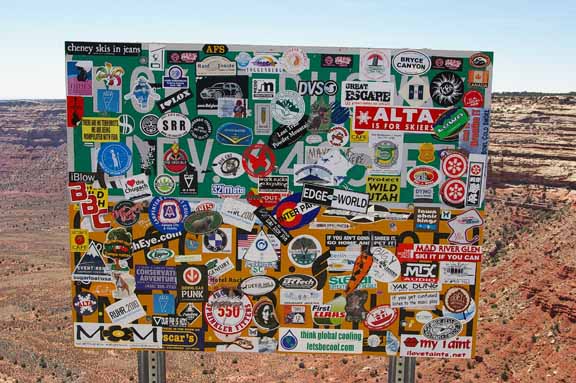 Monument Valley, Utah
Just hanging out at an arch.....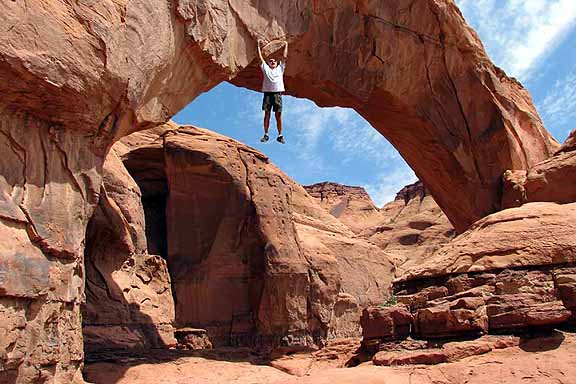 The thumbs of the "Mittens"
ARIZONA
Colorado River and the Glen Canyon Dam at Page, Arizona
UTAH & ARIZONA BORDER
The infamous "Once-In-A-Lifetime" hike to "The Wave".
Caution: This is a very strenuous and exhausting 6 mile(10 km) hike in the desert for experienced hikers ONLY. But the beauty is really worth it!
Along the route to the "Wave".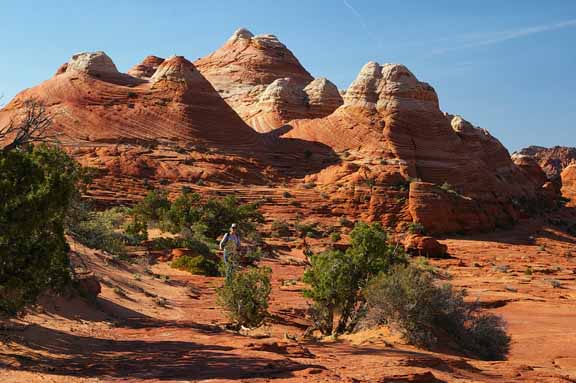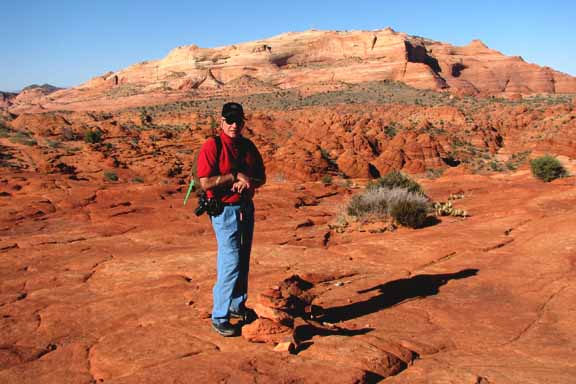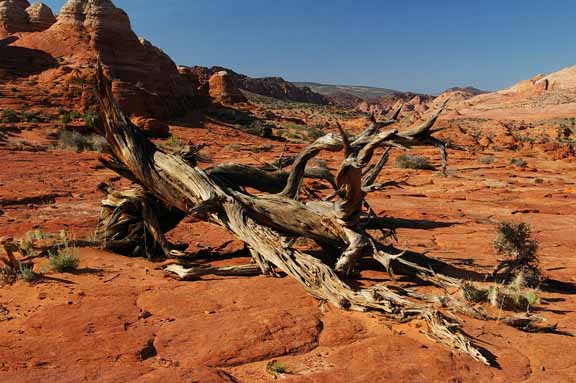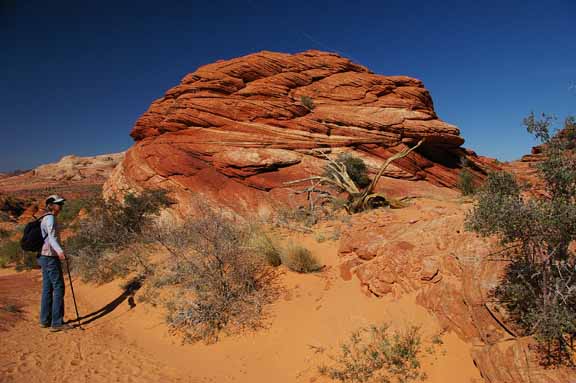 The entrance to the "Wave"
The "Wave" with all it's nooks and crannies.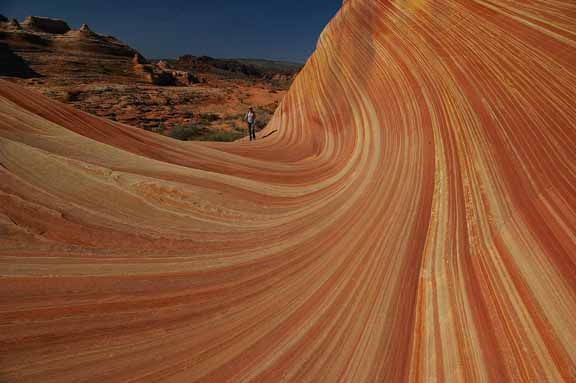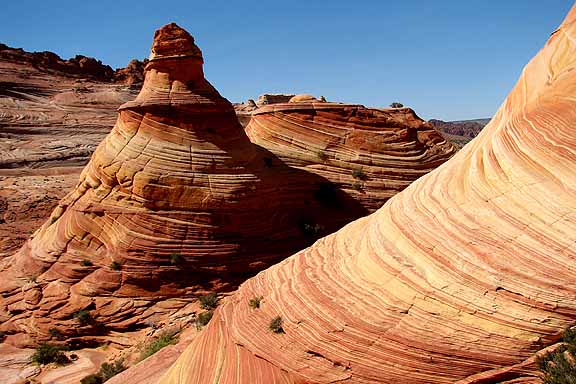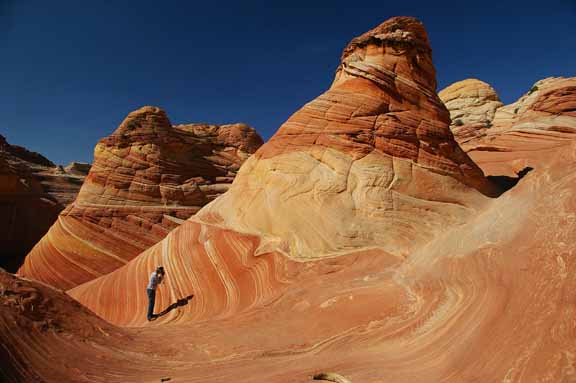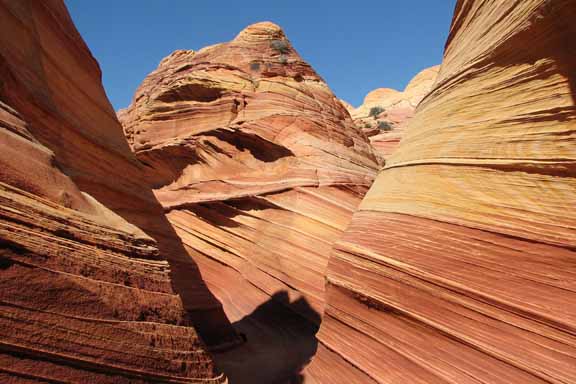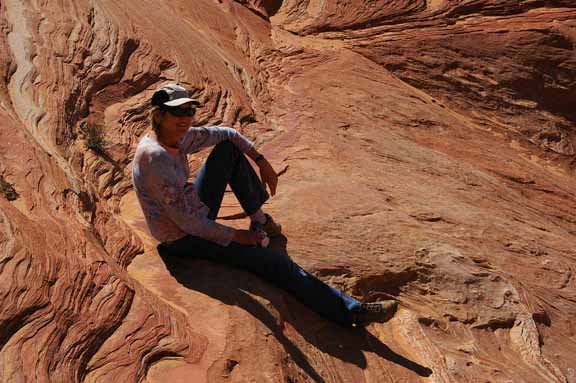 A slip and fall here almost caused an overnight stay? Ouch!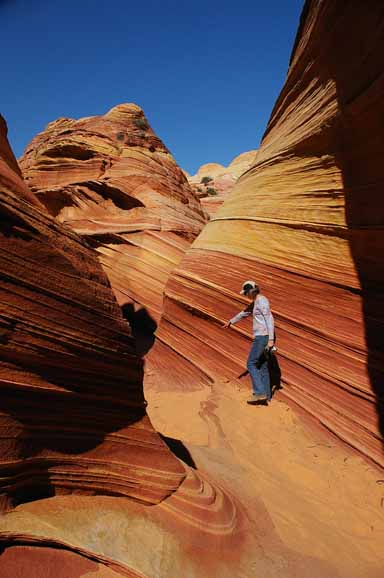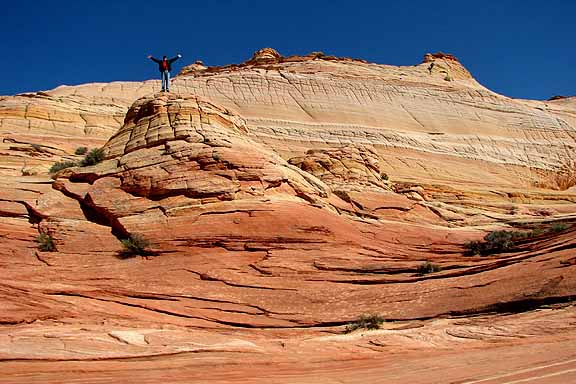 UTAH
The Queen's Trail at Bryce Canyon National Park, Utah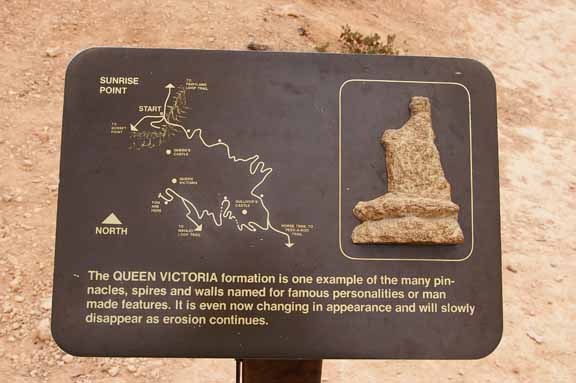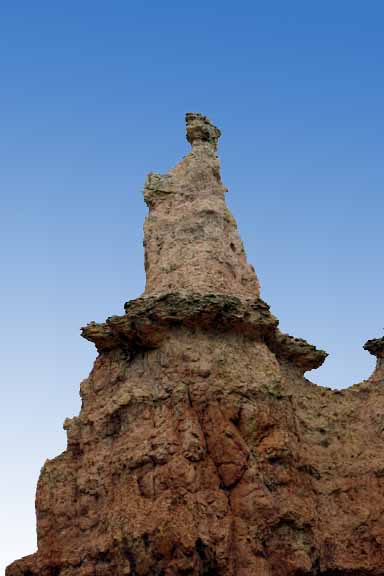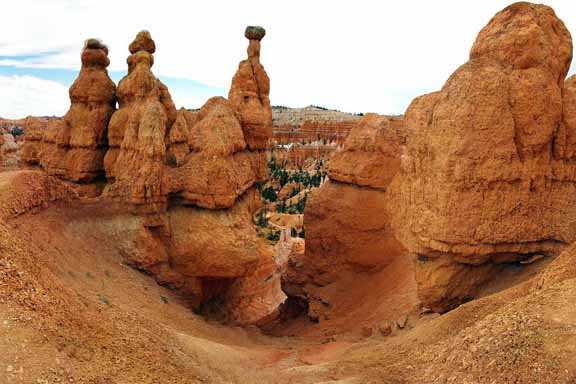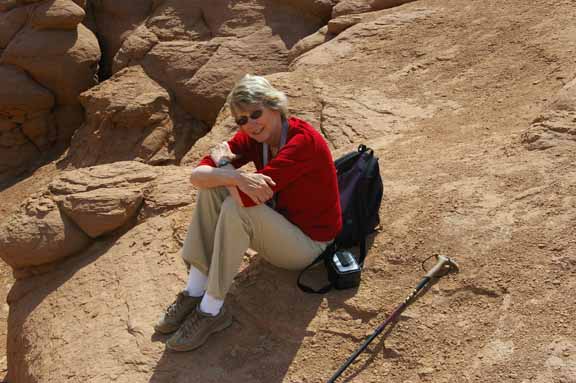 Hiking the beautiful Wilson Creek slot canyon.
This is where you climb down into the canyon.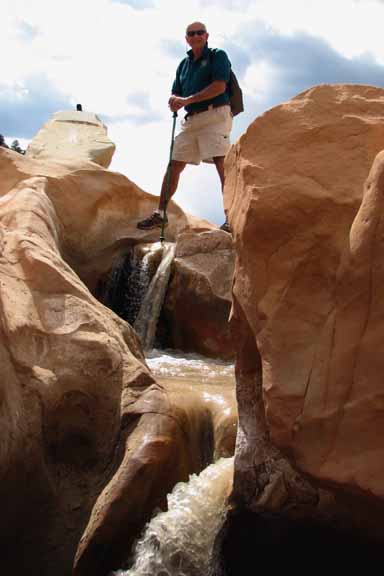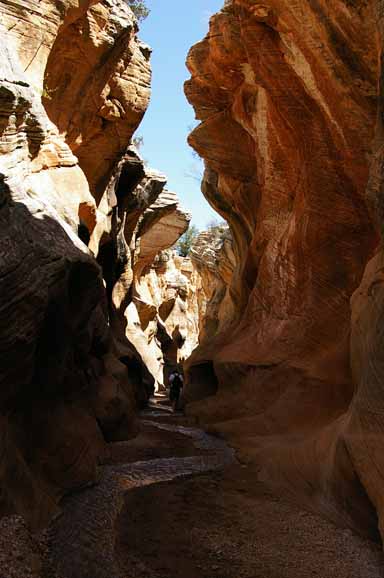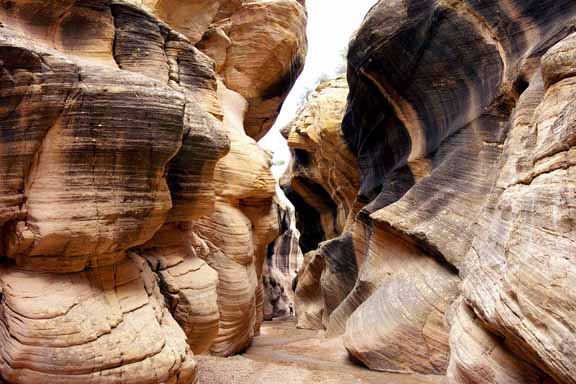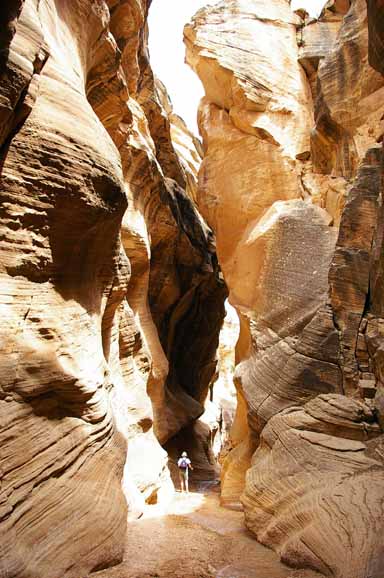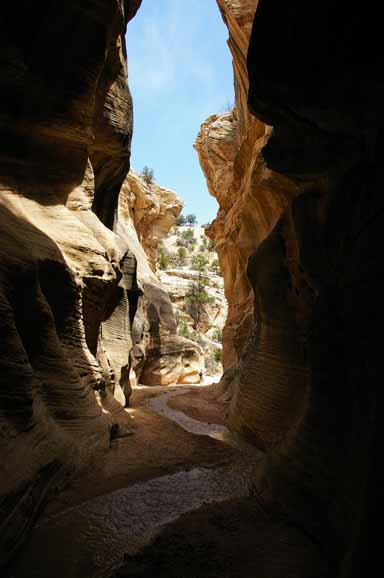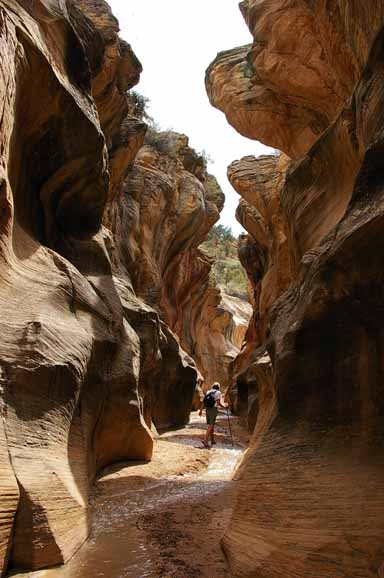 A really old Fremont cottonwood tree in Capitol Reef National Park, Utah
Yes, cotton really does come from a Cottonwood tree.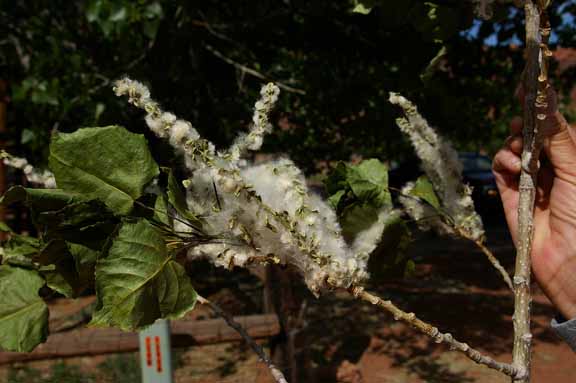 Hiking to the "Narrows' of the "Grand Wash" slot canyon at Capitol Reef National Park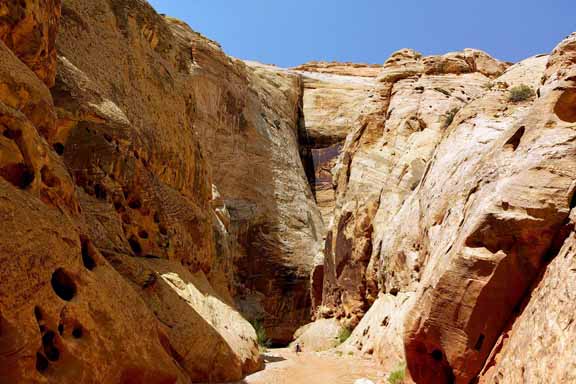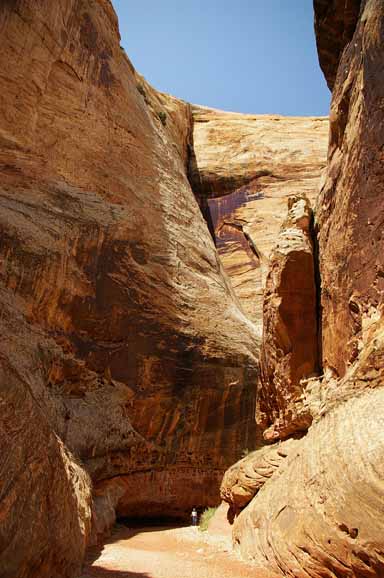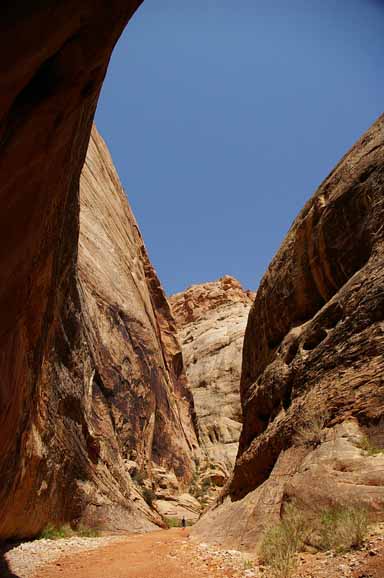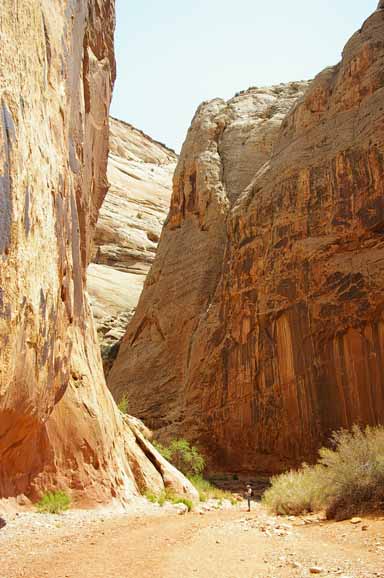 Goblin State Park, Utah
The Three Chipmunks?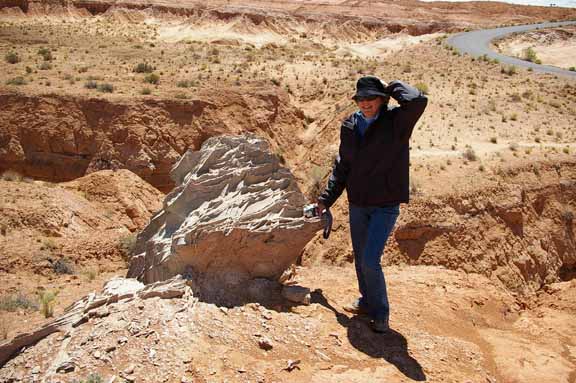 Flicking off the rock.....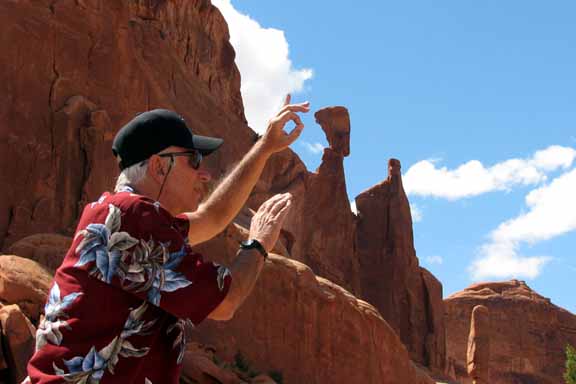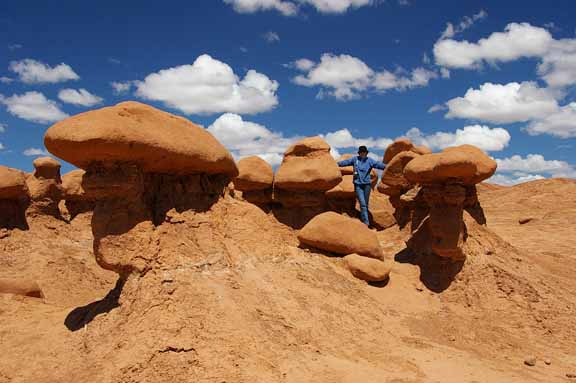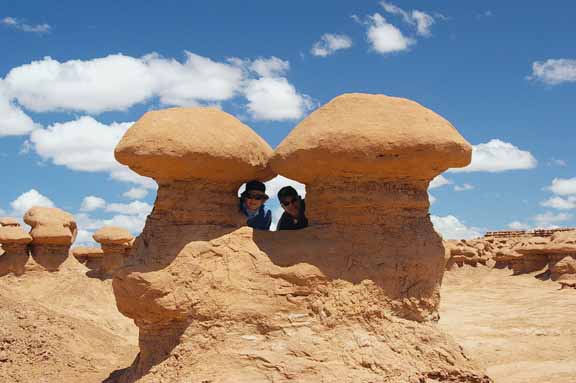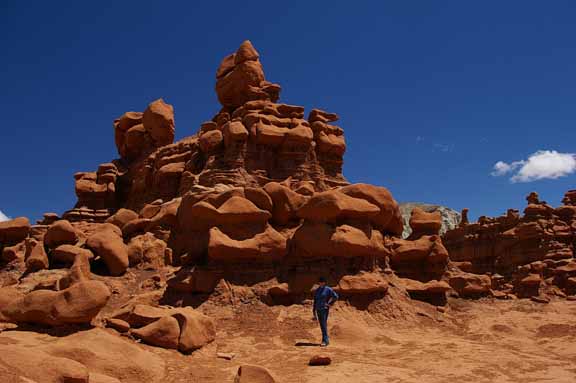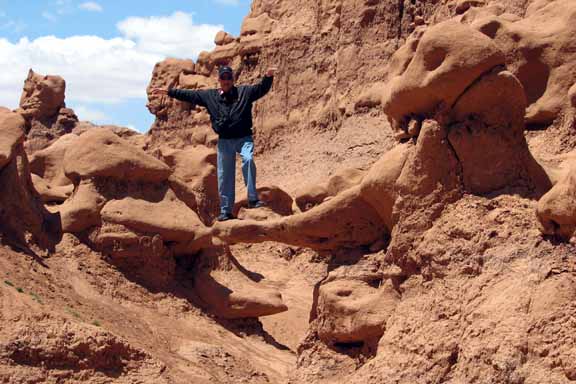 Practicing mountain climbing along Potash Road outside Moab, Utah
After 10,000-13,000 years in North America, is this really the BEST the Native Americans could do? They never even made the wheel!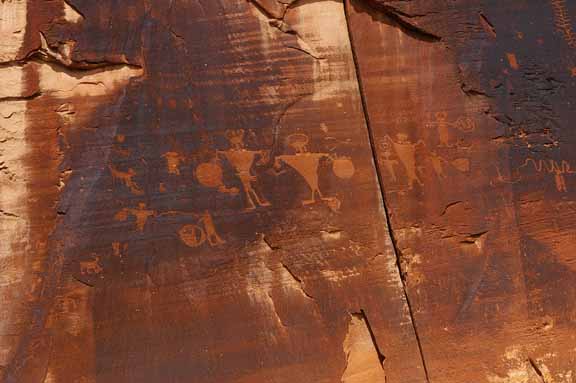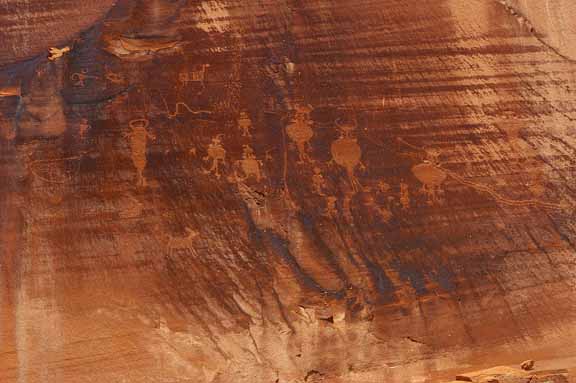 A balancing act on a 900 foot ledge, Dead Horse State Park, UT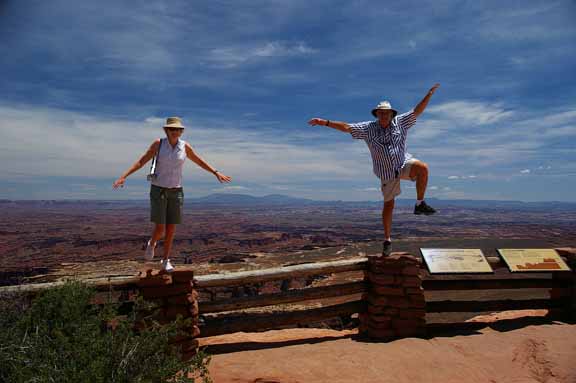 A hungry Raven that joined us for lunch.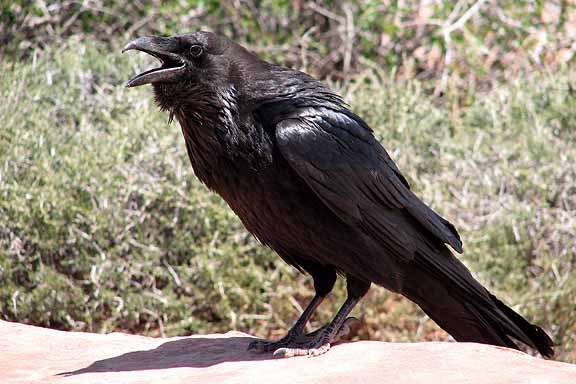 COLORADO
Somewhere along the San Juan Mountains Scenic Byway above 10,000 feet!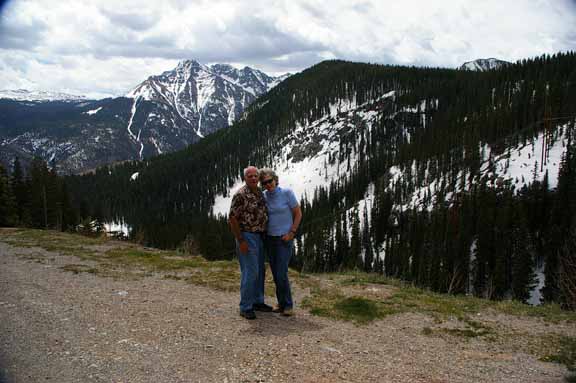 A hot air balloon over the hot springs bath at Pagosa Springs, Colorado
NEW MEXICO
Does anyone KNOW what this vehicle is or did?

Taken at Ojo Caliente, NM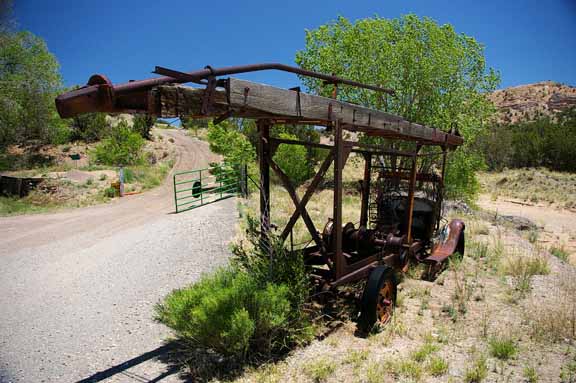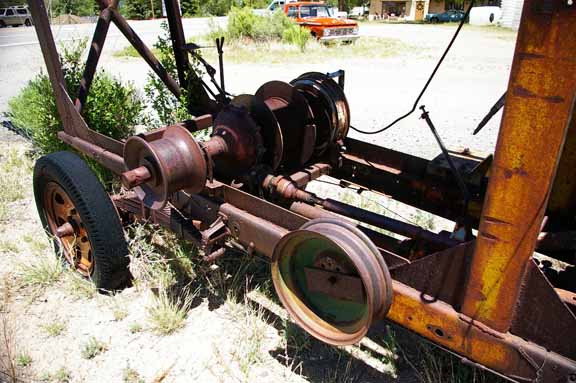 Santa Fe, New Mexico
This has been around since 1610.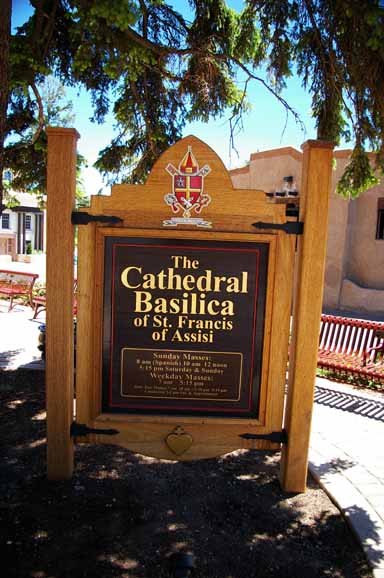 The stained glass was made in France.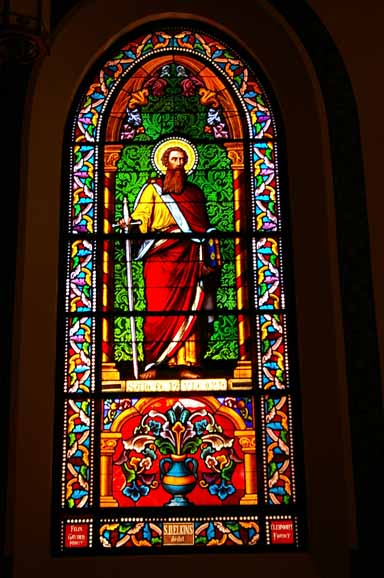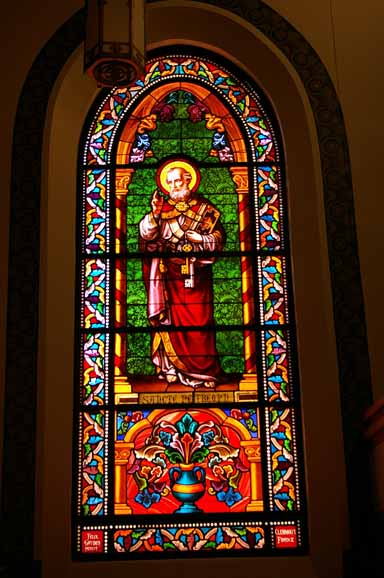 Getting some air.....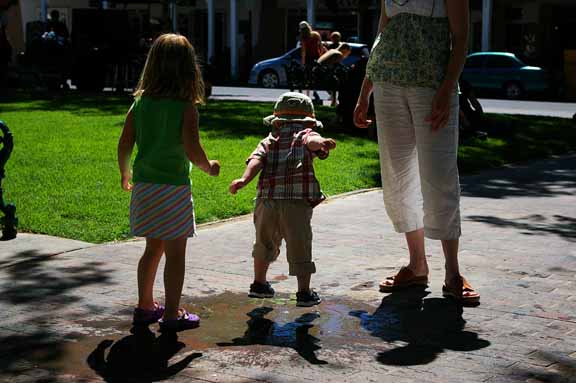 Add your own caption....